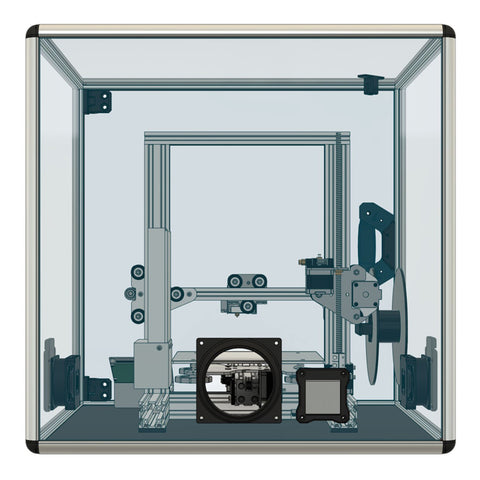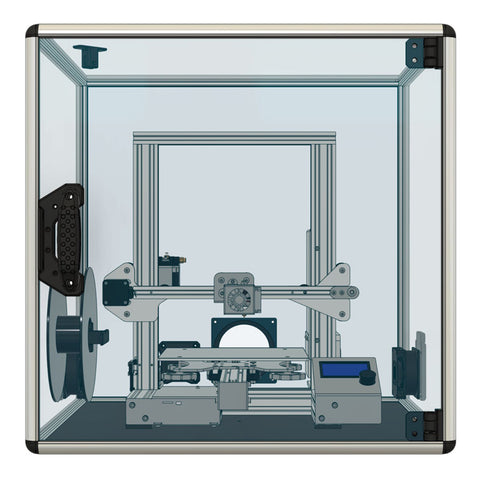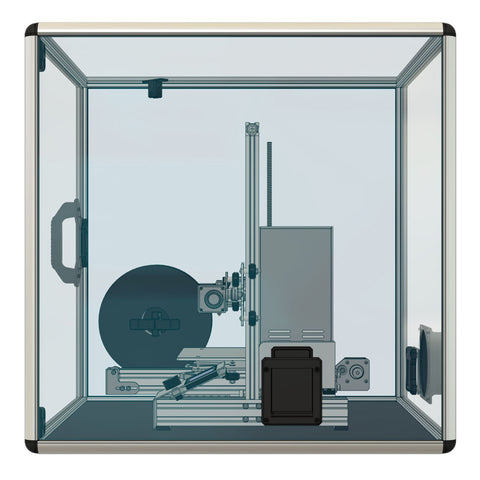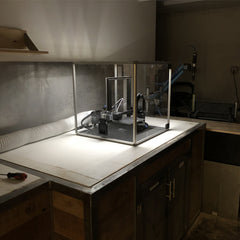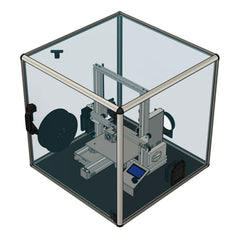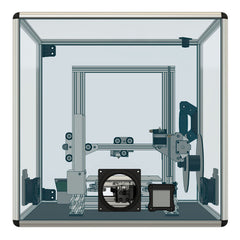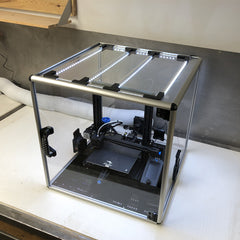 Boxomo Enclosures
The Boxomo 7.0 with Ventilation Cut-Outs (Fits Ender 3, 3 Pro, and 3 V2)
Sale price Price $509.00 Regular price Unit price / per
This enclosure has cut-outs for only a ventilation duct or for a ventilation duct and two temperature-regulator fans.
**IMPORTANT: This does NOT come with ventilation or temperature regulation parts, duct, fans, or controls, only cut outs for these items. If you wish to purchase these parts, please see our Ventilation Kit or our Temperature Regulation and Ventilation Kit. This kit does also NOT come with lights as shown in some pictures.
*The Ender 3 S1 will fit in this enclosure if you remove the filament spool (as is the case with the other Ender 3 printers). However, because the new filament sensor is on the filament spool, you would either not be able to use this feature or you would need to be able to reconfigure the sensor to work with the way our filament system is set up.
Features:
Fire-resistant poly-carbonate panels
Aluminum frame
Rubber grip door handle
3D Printed PETG hinges, and door frame components
Power cord pass through
Door with magnetic latch

Filament spool holder with spool retention clip and and filament guide

Cut-out

 

for a ventilation duct (in the back)
Optional: Two cut-outs

 

for fans (on the sides) and PETG 3D printed fan gates with 10 levels of adjustable air flow.
*Note, the enclosure comes unassembled. Assembly takes a few hours. There are step-by-step instructions for easy set-up. You will need a #2 Phillips screwdriver. You can preview the instructions by visiting our resource page here. 
Perfect for: 
Those who want an enclosure with ventilation capabilities (or who may also want to add temperature regulation capabilities)
This printer is designed to fit the Ender 3, Ender 3 Pro, and Ender 3 V2, although it can be used for any printer that fits inside. When considering the internal dimensions, please be sure to account for total travel of the build plate (not just stationary measurements).
Internal dimensions: 23"x23"x23"
External dimensions: 24"x24"x24"
Maximum doorway dimensions with door attached: 22.75"W x 23.375"H  
Internal Volume: 7.0 cubic feet


Materials: Poly-carbonate panels aluminum (frame), and 3D printed ABS/PETG plastic (hinges, power cord pass through, filament spool holder with retention clip and filament guide, and optional fan gates)
Please note that the enclosure does not significantly reduce the noise of the of the 3D printer.
Please allow 3-5 business days for handling and processing.
Made in the USA from global materials.
Because panels and frames are easily damaged (scratched), we cannot accept most returns. Please see our Return Policy here for details before purchasing. 
Have an enclosure or feature idea that you don't see available? Email us at contact@boxomoenclosures.com. We love feedback on how to improve our offerings to meet the needs of our customers.
Please email us at contact@boxomoenclosures.com if you do not see your country as a shipping option on our checkout page. We can most likely add your country to our options.